Occupied Cyprus Project Logo. Occupied Greek Orthodox Monastery of Apostle Andreas (Andrew), and Occupied Ancient Greek town of Kyrenia.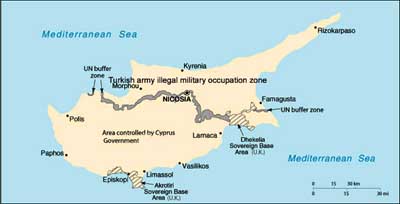 The unacceptable situation in Cyprus today!!!
37% of the island is under ILLEGAL Turkish military occupation,
3% is UNFICYP controlled buffer zone,
3% comprise two British sovereign bases.
Occupied Cyprus Project aims in helping keeping the flag of struggle for return of ALL 200,000 Greek, Armenian, Latin, Maronite, and even Turkish-Cypriot refugees back in their ancestors lands, by providing detailed information about Cyprus communities (villages/towns), occupied ILLEGALLY by the Turkish army since 1974.
Note: Kypros-Net Inc. reserves the right to delete without notice, and reassign to other webmasters, any accounts that do not fulfill the purposes and objectives of Occupied Cyprus Project.
Copyright © 1994-2005. Kypros-Net Inc. All rights reserved.